Here the Halloween 2014 round up.
Tomas decided to go as Charlie Chaplin. Katie thought it was going to be an easy costume this year. However, she wanted the jacket to be ill-fitting like Charlie's was. This required taking a jacket from DI almost completely apart and reassembling. Tomas spent the week prior to Halloween practicing his Chaplin walk. He looked great, but once again, he chose a costume that mostly only adults got. Tomas went trick-or-treating with his two best buds. Jeffrey was an awesome skeleton, and Sebi looked groovy as a 70s dude.
Liam got invited to the school's Halloween dance by Alyssa. Liam would not share any details as to how she asked him or how he responded. Knowing what little I do about Alyssa, I'm sure the invite was cute and creative. I'm just hoping Liam returned the favor.
For the dance, couples came in costume together. Liam and Alyssa went as Scott Pilgrim and Ramona Flowers. Scott and Ramona are characters from a series of graphic novels that have also been turned into a movie. From Wikipedia, I learned the Scott Pilgrim is a slacker and part-time musician who falls in love with Ramona, but must defeat her seven evil exes in order to date her.
For Liam's costume, Katie knitted a special hat, purchased a special T-shirt, and sewed a patch on a coat. To me, I couldn't really tell he was in a costume. But, maybe that's the genius of it. Ramona is known for her different hair colors.
Here is a photo of the movie characters.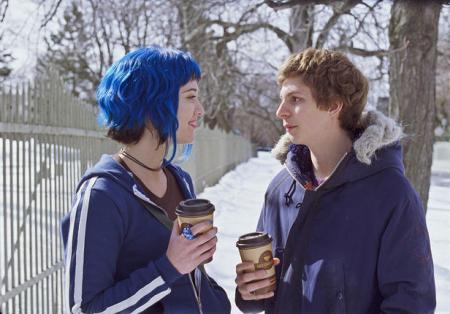 When Alyssa arrived to pick Liam up, Brooke also came to the door. She was dressed as Mary Poppins. I assume her date was Burt.
When we asked Liam how the date went, we got the usual two-syllable reply, "Uh huh." I think that translates to: "Yes, I had a great time."
Katie and I were supposed to chaperone the stake Halloween youth dance. However, I got the date wrong, and Katie had a conflict. I ended up going by myself dressed in the wizard costume. Each year, I say I'm going to do something different, but I always run out of time.