OK, it's time to look on the camera and see what we've done so far this summer. I'm good at blogging when we're off gallivanting around Europe, but when we're just staying home and doing the same-o same-o, I have a hard time working myself up to posting anything.
We have done one thing so far this summer, however, that we've never done before. For years, I have wanted to go to the Freedom Festival Carillon Bell Tower Concert. But, something has always gotten in the way, or I just plain forgot. This year, we made it, and we invited Grandma Jo to join us. Although slightly chilly, it was a beautiful night for the concert.
Everyone brings blankets and chairs to sit outside the tower on the lawn to listen to the concert. They had a small computer screen set up so you could see the musician playing the bells up in the tower. It would be really cool if they could somehow set up a giant screen so more people could see. The bell player pounds these broomstick type keys on the keyboard with the sides of his/her fist. It's amazing to watch, especially when fast, intricate parts are played.
The Carillon Tower was built as part of BYU centennial celebration in 1975.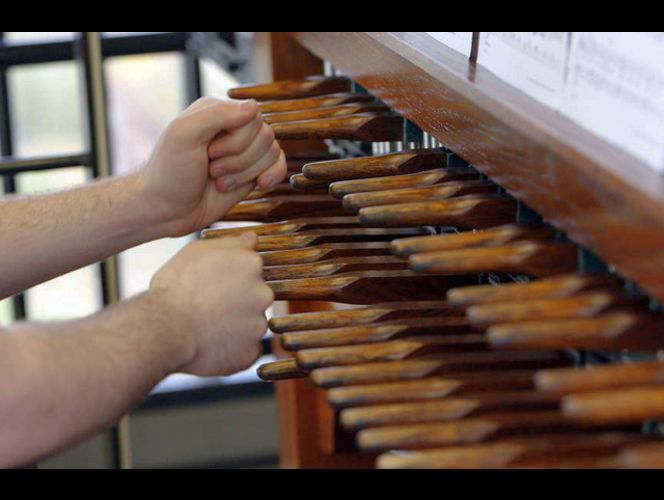 This is a photo I pulled from KSL's website showing the keyboard. I would love to go up in the tower and watch someone play the bells.
Katie, Tomas, and friend, Jeffrey, decided to sit on the lawn near the base of the tower. You can see the small computer screen in the background showing the musician playing the bells.
Grandma and I sat further back in chairs.
Here is some video I took with my phone of the concert. The first two clips are from "Fiddler on the Roof" and the third is Sousa's "Stars and Stripes Forever." The musicians playing the bells have some amazingly fast fist pounding skills.
It was a nice evening. I'm glad after all these years of wanting to go, we finally made it. Now, we're just going to have to look around and find some other new local things we've never tried.